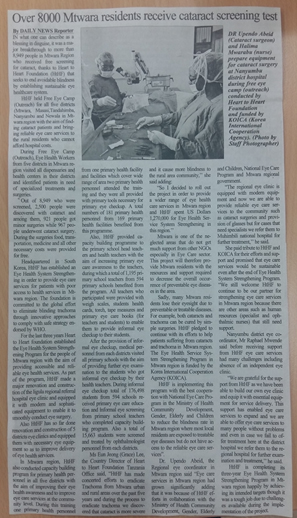 IN what one can describe as a blessing in disguise, it was a major breakthrough to more than 8,949 people in Mtwara Region who received free screening for cataract, thanks to Heart to Heart Foundation (HtHF) that seeks to end avoidable blindness by establishing sustainable eye healthcare system.
HtHF held Free Eye Camp (Outreach) for all five districts (Mtwara, Masasi,Tandahimba, Nanyumbu and Newala in Mtwara region with the aim of finding cataract patients and bringing reliable eye care services to the rural residents who cannot afford hospital costs. During Free Eye Camp (Outreach), Eye Health Workers from five districts in Mtwara region visited all dispensaries and health centers in their districts and identified patients in need of specialized treatments and surgeries.
Out of 8,949 who were screened, 2,500 people were discovered with cataract and among them, 921 people got minor surgeries while 967 people underwent cataract surgery. During the surgeries food, transportation, medicine and all other necessary costs were provided for free.
Headquartered in South Korea, HtHF has established an Eye Health System Strengthening in order to provide eye care services for patients with poor access to health services in Mtwara region. The foundation is committed to the global effort to eliminate blinding trachoma through innovative approaches to comply with safe strategy endorsed by WHO.
For the last three years Heart to Heart foundation established the Eye Health System Strengthening Program for the people of Mtwara region with the aim of providing accessible and reliable eye health services. As part of the program, HtHF made a major renovation and construction of the ligula regional referral hospital eye clinic and equipped it with modern and sophisticated equipment to enable it to smoothly conduct eye surgery.
Also HtHF has so far done renovation and construction of 5 districts eye clinics and equipped them with necessary eye equipment so as to improve delivery of eye health services. In Mtwara region, HtHF also conducted capacity building program for primary health personnel in all five districts with the aim of improving their eye health awareness and to improve eye care services at the community level.
During this training one primary health personnel from one primary health facility and facilities which cover wide range of area two primary health personnel attended the training and they were all provided with primary tools necessary for primary eye checkup. A total numbers of 181 primary health personnel from 169 primary health facilities benefited from this programme.
Also, HtHF provided capacity building programme to the primary school head teachers and health teachers with the aim of increasing primary eye care awareness to the teachers, during which a total of 1,195 primary school teachers from 594 primary schools benefited from the program.
All teachers who participated were provided with weigh scales, students health cards, torch, tape measures and primary eye care books (for teachers and students) to enable them to provide informal eye checkup to their students. After the provision of informal eye checkup, medical personnel from each districts visited all primary schools with the aim of providing further eye examination to the students who got informal eye checkup by their health teachers.
During informal eye checkup total of 176,498 students from 594 schools received primary eye care education and informal eye screening from primary school teachers who completed capacity building program.
Also a total of 15,663 students were screened and treated by ophthalmologist personnel from each districts. Ms Eun Jeong (Grace) Lee, the Country Director of Heart to Heart Foundation Tanzania Office said, "HtHF has made concerted efforts to eradicate Trachoma from Mtwara urban and rural areas over the past five years and during the process to eradicate trachoma we discovered that cataract is more severe and it cause more blindness to the rural area community,'' she said adding: "So I decided to roll out the project in order to provide a wider range of eye health care services in Mtwara region and HtHF spent US Dollars 1,270,000 for Eye Health Service System Strengthening in this region.'' Mtwara is one of the neglected areas that do not get much support from other NGOs especially in Eye Care sector.
This project will therefore provide Mtwara residents with the resources and support required to decrease the overall occurrence of preventable eye diseases in the area. Sadly, many Mtwara residents lose their eyesight due to preventable or treatable diseases. For example, both cataracts and trachoma can be cured by simple surgeries. HtHF pledged to continue with its efforts to help patients suffering from cataracts and trachoma in Mtwara region.
The Eye Health Service System Strengthening Program in Mtwara region is funded by the Korea International Cooperation Agency (KOICA). HtHF is implementing this program with the best cooperation with National Eye Care Program in the Ministry of Health Community Development, Gender, Elderly and Children to reduce the blindness rate in Mtwara region where most local residents are exposed to treatable eye diseases but do not have access to the reliable eye care services".
Dr. Upendo Abeid, the Regional eye coordinator in Mtwara region said "Eye care services in Mtwara region had grown significantly adding that it was because of HtHF efforts in collaboration with the Ministry of Health Community Development, Gender, Elderly and Children, National Eye Care Program and Mtwara regional government. "The regional eye clinic is equipped with modern equipment and now we are able to provide reliable eye care services to the community such as cataract surgeries and provision of glasses but for cases that need specialists we refer them to Muhimbili national hospital for further treatment,'' he said.
She paid tribute to HtHF and KOICA for their efforts and support and promised that eye care services would be sustainable even after the end of Eye Health System Strengthening Program. "We still welcome HtHF to continue to be our partner for strengthening eye care services in Mtwara region because there are other areas such as human resources (specialist and ophthalmic nurses) that still need support.
Nanyumbu district eye coordinator, Mr Raphael Mwende said before receiving support from HtHF eye care services had many challenges including absence of an independent eye clinic. "We are grateful for the support from HtHF as we have been able to build our own eye clinic and equip it with essential equipment for service delivery. This support has enabled eye care services to expand and we are able to offer eye care services to many people without problems and even in case we fail to offer treatment here at the district hospital we refer them to the regional hospital for further examination and treatment,'' he said.
HtHF is completing its three-year Eye Health System Strengthening Program in Mtwara region happily by achieving its intended targets though it was a tough job due to challenges available during the implementation of the project